Five solid tips from people who told authorities that distinctive tattoos helped them recognize a woman seen in photos released Thursday as part of a child molestation investigation led to an arrest in the 11-year-old case involving "widely circulated" child pornography images.

Letha Mae Montemayor, 52, was taken into custody Thursday night outside an apartment complex in North Hills.
Authorities said they believe the woman is the individual -- identified as "Jane Doe" in a criminal complaint filed Monday -- who appears with an unidentified male in a series of photographs released Thursday afternoon as investigators hunted for leads in the child pornography case.

"Just after ICE's nationwide plea for public assistance, five separate community tips led to the arrest of Jane Doe," said U.S. Immigration and Customs Enforcement (ICE) Director John Morton. "This arrest would not have happened without the public's help, and it demonstrates how much individual citizens can do to help law enforcement attack crime."
An appearance in federal court for Montemayor, charged with one count of making child pornography, was scheduled for Monday.
A neighbor of Montemayor's who did not want to be identified said the suspect was a "hoarder" who "did not take care of her body well" and was "rude to all the children."

About 10 hours before her arrest, Morton and other law enforcement agents conducted a news conference regarding "Operation Sunflower," a recently concluded child sex crimes investigation that led to more than 240 arrests. During the news conference, authorities released images of a man and tattooed woman wanted in connection with a child molestation case authorities said occurred about 11 years ago, possibly in Los Angeles.

"The (tipsters) said they recognized the face, the tattoos," said Homeland Security Investigations Special Agent in Charge Claude Arnold.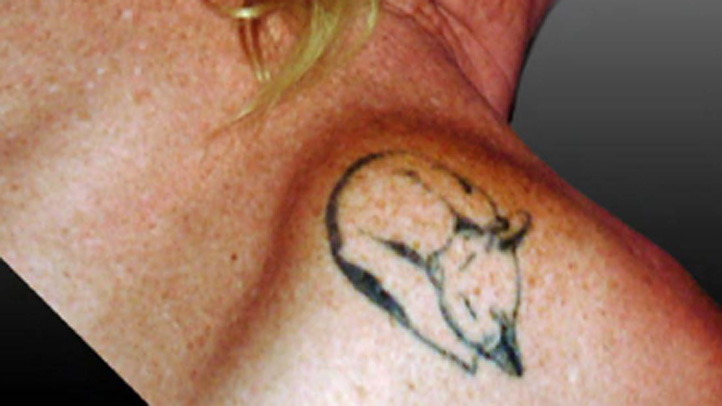 "They were very confident that it was she. We expect that it would be more difficult because they were older images, but we were optimistic because they were good images."

The woman's tattoos -- a sleeping cat, butterfly and other designs -- are visible in the photographs released Thursday.
But other clues in the background of the images, discovered by Chicago Homeland Security agents in 2007 and passed along to LA agents, prompted investigators to focus on locations in the San Fernando Valley. Forensics analysis of the images, conducted by the National Center for Missing and Exploited Children, revealed details in the pictures, such as close-ups of the tattoos, a calendar from a store and a phonebook.
The criminal complaint alleges that "Jane Doe," now identified as Montemayor, was involved in the production of child pornography images that were "widely circulated" online. The images depict the sexual molestaion of a girl, who appears to be about age 13, according to ICE.

Authorities have not identified the victim or male subject.
"We still want the public's help in identifying John Doe and the victim in the disturbing series of images that continue to be circulated on the Internet," said U.S. Attorney André Birotte.
Call 866-347-2423 or visit this tips form to provide information. Click here to view the ICE wanted poster.
Photo Credit: ICE