Harrowing stories of survival are starting to emerge from the massive chain-reaction crash on I-94 near Michigan City, Indiana Thursday.

Three people died and 23 others were injured in the crash that involved up to 46 vehicles, 15 of them semi-trailers.

Devon Nash was caught in the middle of the crash, and for a moment, imagined the worst. He was asleep on the passenger side and woke up to find the car he was riding in spinning out of control.

"We smacked the car in front of us, and then after that, another car came and hit us from behind. And then I seen a semi coming toward us, so I just closed my eyes. I thought we were going to die, honestly," Nash told NBC 5 from his hospital bed.
Even veteran emergency responders couldn't believe what they saw.

"A lot of the vehicles were on top of one another. It was very hard to determine the magnitude of the scene," Laporte County EMS tech Andrew McGuire said.

Indiana Laporte Hospital nurse Tina Thomas said one crash victim described a scenario she was powerless to avoid.

"When she tried to stop when she saw everything happen, she said she was not able to. She said it was like a sheet of ice under the snow," Thomas said.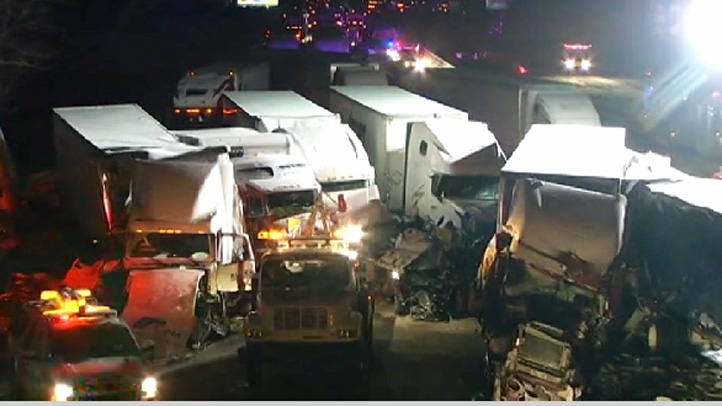 Scott Collins, 17, of Chesterton, Ind., was riding in a car with three other teens and saw the crash happen just behind them.

"One of the semis started sliding and I think it jackknifed in the middle of the road" and collided with another semi, he said. "After that happened, multiple semis locked up."

He said a box truck got stuck on a guardrail and nearly went over into a waterway.

"We were pretty nervous," he said.